Hello everyone, my name is Eddy I was born in 1950 at Londerzeel (Belgium) I'm active since 1974 on 27 MHz.
A little later I went DX'ing and had a lot of nice contacts from all over the world.
After a few years I stopped with DX'ing, but recently I fired the engine up again!
My callsign is 16FX006, and after every DX-contact I always send qsl.
Hope to meet you soon on the frequency.
73's & 105 Eddy 16FX006
Belgium Time
// <![CDATA[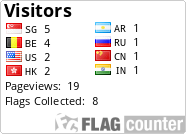 // ]]>